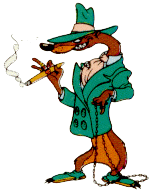 :: crapweasel ::
the official blog of
Dave Tompkins
RSS Feed
Friday, October 31, 2003
Happy birthday to me. Happy birthday to me. And what did I get on my birthday? 1) A Hangover, 2) my e-mail server crashed/locked up my account, 3) my home dir on ECE had a hard disk corruption, and 4) my blog site went down (posting anyway). whee.
Monday, October 27, 2003
Saturday, October 25, 2003
Thursday, October 23, 2003
Monday, October 20, 2003
Sunday, October 19, 2003
Wednesday, October 15, 2003
Tuesday, October 14, 2003
Monday, October 13, 2003
Friday, October 10, 2003