Cryptography Theory and Practice, Second Edition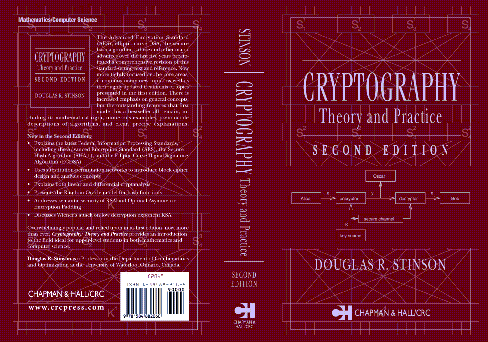 The second edition of this cryptography textbook by Doug Stinson was published in February 2002, by CRC Press, Inc.
This is a major revision of the first edition, which was published in March, 1995.
The third edition will be published in 2005.
The French translation, by S. Vaudenay, G. Avoine and P. Junod, was published by Vuibert in October 2003; click here .
You can view the Table of Contents of the book and the Preface in postscript.
I maintain a list of errata, which was last updated on April 15, 2004.
Text for some exercises is available here. (If you would like additional exercises posted to this web page, please email me.)
I prepared a solution manual for the Exercises, which is available to instructors using the book as a textbook for a course. Copies of the solution manual can be obtained from the publisher (CRC Press). Please email Bob Stern (bstern@crcpress.com) for more information.
The book is priced at $79.95 in the U.S. CRC Press has a web page where you can order the book; click here. It is available for $64.76 from Amazon.com; click here.
In Canada, the book can be obtained for $115.95 (Canadian dollars) from Amazon.ca; and for $92.36 from Chapters.indigo.ca.
Back to Doug Stinson's home page: click here.